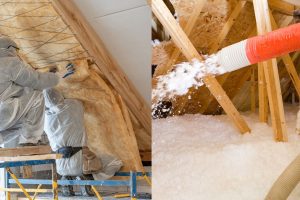 Blown-in or batt and rolls– how do you choose? Homeowners often struggle deciding which one is best suited to their home as they make changes to their property. Are you considering adding more insulation to your home? If so, your search has led you right where you need to be. It can be a little confusing trying to decide which type of insulation is the right choice for your property. One of the most important decisions to make is whether you are going with batt or blown-in insulation. What's the difference? And what do you need to consider when making your decision?
In The Attic
You have probably already learned about the benefits of using fiberglass insulation. Batt and blown-in are two different types of fiberglass insulation that may work for your home. Blanket insulation that is made into rolls or batts is more frequently used, however this doesn't mean that it is the right choice for your home. Batt insulation comes in panels that are typically pre-cut to a standard size. Blown-in insulation is installed using a blowing machine. Blown-in Insulation has more benefits though.
Why to Use Blown-in Insulation…
 Some will argue that blown-in is the superior insulation. Here are a few reasons why…
Energy Efficiency – Most homes are supposed to have an R-49 R-Value, that's about 18.5 inches of blown-in insulation in their attic.
Noise Reduction – It is better at minimizing day-to-day noise both inside and outside of your home.
Fits Any Space – Blown insulation also will fit any space.
Contact Us (513-771-3626) for More Information -or- Get a Quote!
—
About Cincinnati RetroFoam
Cincinnati RetroFoam is an experienced insulation contractor providing injection foam, spray foam, and blown-in insulation services to the Cincinnati, Dayton, Northern Kentucky & South-East Indiana Areas. Cold Annoying Drafts? Outrageous Energy Bills? Improve Your Home with Insulation.
> Learn More