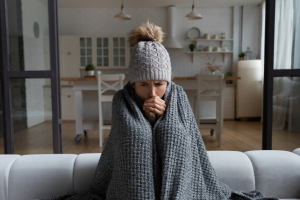 The mighty Ohio River runs rapidly through the tri-state area and the Queen City is no stranger to a windy day. Our streets are filled with beautiful historic homes and in the suburbs, you can find stunning new builds. Whether new or old, your home may be drafty. Choosing an insulation that blocks holes and cracks is the best way to prevent drafts. When properly applied, spray foam insulation prevents air leakage better than all other types of insulation. The application process allows the sprayed-on foams to make their way into the tiniest cracks and crevices ensuring that drafts are blocked– this is something that your typical batting insulation just can't do.
From Windy Springs To Winter Freezes
With spring just around the corner, we've already seen the power of wind in our area. Cities and towns along the Ohio River see atmospheric pressure differences which can create wind funnels. While this might benefit hang gliders, it can be frustrating for homeowners in the area. Many people do not realize just how drafty their home is until they make it through a long, cold winter. After those sub-zero temps we experienced in December or February's windiest day, you've probably noticed some things. Spray foam insulation is a great solution for keeping those cold winds from making their way into your home.
Seal Drafts In Your Tri-State Home
Foam insulation can be used to prevent drafts by sealing and insulating air leaks. Our foams form a continuous, unbroken layer of insulation. As it conforms to each crevice and fills every crack, it creates a seal to ensure that drafts of air aren't invading your home. Our products do not require staples or nails that can create leaks in your boards, beams, and rafters to keep them in place. These foams can fill leaks that you may not have even known existed; you know, the kind that really impacts the efficiency of our homes. One of our most popular products is even resistant to mold, water, and pests. The barrier our foams can create can prevent your tri-state home from being damaged by the various weather our area sees throughout the year. Not only will it keep out the rain, but it also keeps out the rodents as they are not able to nest in the foam.
When You Choose Cincinnati RetroFoam, You're Choosing An Experienced Team You Can Trust
Hiring the right team makes a difference in product quality and proper installation. Some homeowners have been disappointed with foam insulations in the past because their contractor did not have the knowledge or skills to properly apply spray foam insulations.
Spray foam insulation needs to be mixed prior to application. When this step is done the right way, the foam will expand and create a tight seal. The effectiveness of spray foam insulation relies heavily on how it was applied. It is important to our team that they take the time to do the job correctly, ensuring that the gaps and holes in your home are filled.
Since 2015, Cincinnati RetroFoam has been offering premium foam insulations to homeowners in the tri-state. Our team is experienced in applying our products so that they adequately seal and insulate homes that see all four seasons (sometimes in one week).
Contact Us(513-771-3626) for More Information -or- Get a Quote!
Injection Foam Insulation  |  Spray Foam Insulation  |  Blown-In Insulation
—
About Cincinnati RetroFoam
Cincinnati RetroFoam is an experienced insulation contractor providing injection foam, spray foam, and blown-in insulation services to the Cincinnati, Dayton, Northern Kentucky & South-East Indiana Areas. Cold Annoying Drafts? Outrageous Energy Bills? Improve Your Home with Insulation.
> Learn More