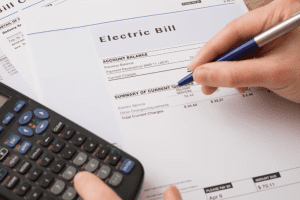 If you pay for powering your home, you know that the dollars can really add up. The price per kilowatt hour (kWh) of electricity in the US rose from nearly 14 cents to 15 cents over the last year, according to the Energy Information Administration. While a single cent might not sound like much, the average American household uses nearly 900 kWh of electricity each month.  If you take the steps suggested below, you could save a bundle on electric and gas bills. And if you think of the improvements as an investment, you can enjoy a healthy annual rate of return and won't pay income taxes like you would with regular investment returns.
Insulation Makes Up 70% Of The Total Heat Gain And Loss In Your Home
The Department of Energy starts its whole discussion of energy saving in the home with insulation. Adding insulation gives you the best savings for your dollar. The energy department says if you spend $9,000 to $12,000 on windows, you will save 7% to 15% on your energy bill. If you spend around $1,000 to $1,500 for new insulation, proper caulking, and sealing, you will save 10% to 20% on your energy bill.
Should I Have An Energy Assessment?
An energy assessment is usually just a walk through with a professional explaining what areas of the building could use energy upgrading. This includes air sealing, insulation, weather stripping, etc. Since energy assessments have to do with cosmetic, above-the-surface upgrades, there is usually no charge for this assessment. Depending on the age of your home and what improvements have been made through the years, you may have less insulation than what is actually recommended by today's standards. Insulation standards can best be defined as current "rules of thumb," which are based upon consumers' desired levels of comfort, building practices, local climate, and costs. If you live in a home that is more than ten years old, it is a good idea to check the type and thickness of your insulation and correlate the corresponding R-Values. An energy assessment can tell you exactly where you need more insulation to reduce your energy bills.
In Addition To Insulation, There Are Other Things You Can Do To Save Money On Energy Bills
Watch your utility bills drop with these smart (and easy!) energy saving projects: 
Caulk and seal all air leaks where plumbing and electric lines come into your home.
Add weather stripping to your windows and doors.
Hire an HVAC professional to inspect the ductwork for leaks.
Give your HVAC equipment a tune up.
Install a programmable thermostat.
Replace all your old incandescent light bulbs with LEDs.
Reduce the water heater temperature to 120 degrees from the normal 140 degrees.
Insulate your water heater.
Install smarter switches and save up to $100 a year. Motion sensors are the perfect solution for left-on lights.
Using less hot water can save you big money on utility bills. If you're washing and rinsing your clothes in hot water, you're wasting a chunk of change heating all that water.
Contact Us(513-771-3626) for More Information -or- Get a Quote!
Injection Foam Insulation  |  Spray Foam Insulation  |  Blown-In Insulation
—
About Cincinnati RetroFoam
Cincinnati RetroFoam is an experienced insulation contractor providing injection foam, spray foam, and blown-in insulation services to the Cincinnati, Dayton, Northern Kentucky & South-East Indiana Areas. Cold Annoying Drafts? Outrageous Energy Bills? Improve Your Home with Insulation.
> Learn More