Insulation Services
We are an insulation contractor focused on insulating existing homes, new homes and pole barns across the areas of greater Dayton, Cincinnati, and Northern Kentucky.
We install jobs of all sizes, from retrofitting entire homes to focusing on the most severe problem areas of a home, including: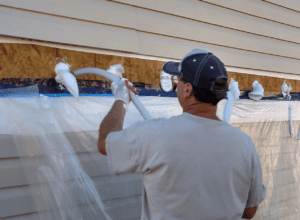 • Attics
• Walls
• Crawl Spaces
• Rim Joists
• Basements
Insulation Types We Offer
Since each project is unique, we use the right insulation type to meet your needs. These include:
Injection Foam Insulation – This allows us to conveniently re-insulate existing walls without a huge mess or hassle of a full remodel.
Spray Foam Insulation – Used to insulate open areas like attics, crawl spaces, rim joists, and walls that are not yet covered. We use both open and closed cell spray foam insulation depending on the specific project goals and application.
Blown-In Insulation – An alternative method for insulating your attic.
Take the Next Step
If you are ready to experience the comfort and energy savings that you deserve, please give us a call at 513-771-3626 or fill out the form to request your free quote.
REQUEST A FREE QUOTE

Take the Next Step Towards Comfort and Energy Efficiency