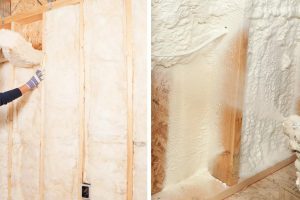 Choosing the right insulation will have a direct impact on your energy bill. Your insulation helps to reduce your heating and cooling costs. Doing your research early on will help you know which insulation is available to you– and most importantly, which one is the best for your specific structure…
Fiberglass
Fiberglass insulation is a versatile product. You can purchase it in several different widths to accommodate your needs. You can use it in different structures as it offers R-values between 2.9 and 3.8 per inch of thickness. Fiberglass insulation is budget friendly and easiest to install, however is not as effective as other eco-friendly insulation options.
Foam
Fiberglass is a suitable insulator, but nothing compares to spray foam insulation. Spray foam insulation gets sprayed into small cavities and expands to fill even the tiniest cracks and crevices. This creates a seal that helps to reduce air leaks thus saving energy. Spray foam insulation will form an air barrier that wraps your home as it works.
The Best Choice For Your Home Or Business
You only want the best when it comes to insulating your home or business. Choosing an effective insulation that is able to hold up to the elements is important. Ideally, your insulation is the one that performs the best per square foot when compared to fiberglass insulators like fiberglass batts. Your insulation should minimize heat loss and be energy efficient. Both open-cell and closed-cell foams are known for air efficiency. Having insulation that can fill a space entirely, prevent air leakage, and create an air sealed environment is what you expect.
Contact Us(513-771-3626) for More Information -or- Get a Quote!
Injection Foam Insulation  |  Spray Foam Insulation  |  Blown-In Insulation
—
About Cincinnati RetroFoam
Cincinnati RetroFoam is an experienced insulation contractor providing injection foam, spray foam, and blown-in insulation services to the Cincinnati, Dayton, Northern Kentucky & South-East Indiana Areas. Cold Annoying Drafts? Outrageous Energy Bills? Improve Your Home with Insulation.
> Learn More