Spray Foam Insulation Dayton, Ohio
If you're a homeowner or business owner in Dayton, Ohio looking to improve your property's insulation, energy efficiency, and comfort, spray foam insulation is an excellent solution. If you're interested in spray foam insulation that Dayton residents can rely on, the experts at Cincinnati RetroFoam can meet all your insulation needs.
Dayton, Ohio, the Birthplace of Aviation, is a dynamic city with a rich history in innovation and aerospace. Home to the National Museum of the United States Air Force and a thriving arts scene, it offers a diverse array of cultural attractions, world-class dining, and scenic parks along the Great Miami River, making it an ideal destination for both residents and visitors alike.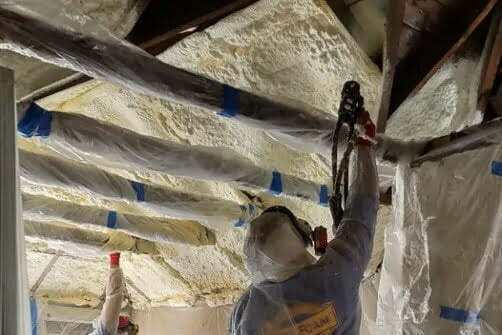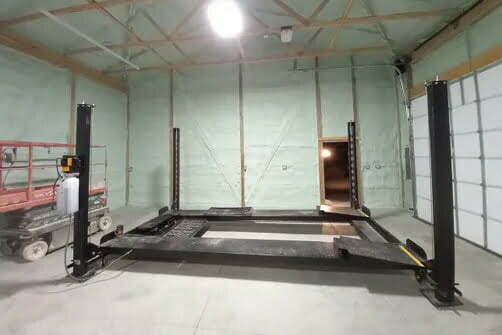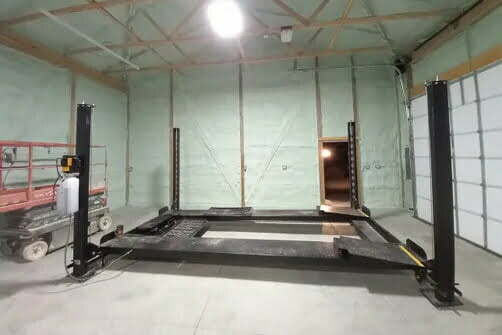 Why Choose Cincinnati RetroFoam For Your Spray Foam Needs?
When it's time to upgrade your insulation, you want to work with a company that is an authority in spray foam insulation. Cincinnati RetroFoam has the experience, expertise, and track record to deliver optimal insulation and comfort improvements.
Since 2015, Cincinnati RetroFoam has insulated thousands of local homes and businesses. Our entire focus is spray foam insulation so you get true specialists dedicated to perfecting their craft.
Cincinnati RetroFoam only uses top-tier insulation products and advanced application equipment operated by highly trained technicians. This ensures you get robust insulation that seals ideally with no gaps or voids. When you choose Cincinnati RetroFoam, you can be confident they will meet and exceed expectations.
Our Dayton Spray Foam Services
Cincinnati RetroFoam provides complete spray foam insulation services for all building types throughout Greater Cincinnati and Dayton. Our certified technicians have the expertise to insulate any space effectively.
Dayton Residential Spray Foam Insulation
We handle residential spray foam projects throughout Dayton, OH, including:
Attic spray foam insulation: We insulate attic floors, eaves, sloped rafters, and attic access hatches. Proper attic insulation is key for energy efficiency.
Crawl space and basement spray foam: Applying closed-cell foam insulates damp crawl spaces and basement walls against moisture while reducing humidity.
Wall cavity spray foam insulation: Spray foam into wall cavities and insulate effectively while creating a robust air seal.
Full home insulation solutions: For new builds or whole home renovations, we fully insulate the entire home's envelope for maximum efficiency.
Dayton Commercial Spray Foam Insulation
For Dayton business owners, RetroFoam insulates:
Warehouses and manufacturing facilities: We insulate large open ceilings and walls.
Office buildings and retail spaces: Our foam improves temperature regulation and decreases sound transmission.
Agricultural spray foam insulation: We insulate livestock buildings, dairy barns, and indoor riding arenas.
Food processing facilities and restaurants: Foam helps meet FDA/USDA requirements for cleanliness, moisture resistance, and sanitation.
Dayton Attic Insulation
Properly insulating attics is crucial for energy efficiency. RetroFoam expertly applies open and closed-cell spray foam:
On attic floors spanning truss joists and along eaves
Filling pitched roof rafter cavities and blocking airflows
Sealing and insulating attic hatches and access doors
Around penetrations like pipes, wires, vents
This seals attics thoroughly while allowing proper ventilation per code. We also insulate knee-wall attic spaces.
Benefits Of Spray Foam Insulation
Upgrading your insulation with spray foam provides numerous advantages for both homeowners and business owners.
Save More Money By Making Your Home More Energy Efficient
Spray foam insulation offers vastly superior energy efficiency and cost savings compared to traditional fiberglass batt or blown-in insulation. Closed-cell spray foam provides an R-value of R-7.4 per inch, over 3 times higher than fiberglass insulation. The expanding foam seals even the most minor gaps and cracks throughout the structure allowing heated and cooled air to escape, wasting energy.
By thoroughly air-sealing the entire building envelope, there is significantly less demand for HVAC systems for heating and cooling. Most homeowners experience over 30% reductions in their energy bills after upgrading insulation with professional spray foam installation. Factoring just a few years of energy savings, the long-term cost benefits of foam insulation easily outweigh the upfront insulation investment.
Improved Temperature Consistency and Comfort
Proper insulation with spray foam also provides noticeably improved temperature regulation and comfort. Consistent insulation coverage throughout the home prevents hot and cold spots in certain rooms or floors. No more dealing with drafty rooms or areas of flooring that make you uncomfortable. The closed-cell rigid foam itself adds structural stability that makes floors and walls feel more solid.
Far fewer drafts, pollen particles, dust, and other outdoor allergens can enter living spaces through small cracks when air-sealed properly. Pests have a harder time entering and nesting within the dense spray foam insulation. Overall, the robust sealing and stable insulation allow for superior climate control and comfort indoors.
Moisture and Pest Resistance
The closed-cell structure of spray foam insulation provides excellent moisture resistance and condensation control. Closed-cell foam is highly resistant to water intrusion or uptake compared to absorbent fiberglass insulation. It adds a continuous protective barrier that covers existing insulation while sealing out moisture. The rigid cured foam deters pests from burrowing in or nesting within insulation material.
Improved air sealing means lower interior humidity and less condensation on walls, windows, and components. The dense foam structure also dampens exterior noise from traffic, wildlife, and equipment, making for quieter indoor spaces.
Our Dayton Spray Foam Insulation Pricing
The cost of spray foam insulation can vary depending on a few key factors. One of the main factors is the square footage of the area to be insulated. For instance, if you're considering attic insulation, the cost will primarily depend on the size of your attic.
Another crucial factor that affects the spray foam insulation pricing is the type of spray foam. There are two main types: open-cell and closed-cell spray foam. Open cell is typically less expensive than closed cell, but it provides less insulation per inch. Working with a professional contractor like us can give you a more accurate estimate for your insulation project.
We have the experience and expertise necessary to ensure that the job gets done right the first time. Remember, investing in high-quality foam insulation increases your home's energy efficiency and reduces your energy bills. Over time, the upfront costs for proper foam insulation can be offset by future energy savings.
Trust Cincinnati RetroFoam for Spray Foam Insulation
When it comes to spray foam insulation services in Ohio homes and buildings, there's one company you can trust – Cincinnati RetroFoam.
As a local company rooted right here in Cincinnati, RetroFoam understands our climate, older housing stock, and the benefits injection foam can offer. We offer top-quality open and closed-cell foam solutions to match your project. This leads to optimal energy efficiency and comfort improvements.
From start to finish, you can rely on our team of seasoned professionals to implement spray foam insulation right. We take care of assessing your existing insulation and determining ideal application points.
If you're looking to upgrade your home's insulation with spray foam, look no further than the experts at Cincinnati RetroFoam. Our tailored solutions, outstanding service, and results you can count on make us the smart choice for spray foam insulation in Dayton.
Take the Next Step Towards Comfort and Energy Efficiency
Serving Cincinnati, Dayton, Northern Kentucky & South-East Indiana
FAQ's
Is spray foam worth the money?
Yes, spray foam insulation can be worth the money if you are looking for an effective and long-lasting insulation solution. While it may initially have a higher upfront cost than other insulation methods, it can significantly reduce energy bills in the long run and provide benefits such as improved indoor air quality and noise reduction.
Does spray foam insulation maximize energy efficiency?
Yes, spray foam insulation is considered one of the most effective types of insulation for maximizing energy efficiency. It provides an airtight seal, which minimizes air leakage and prevents heat transfer, resulting in reduced energy consumption and lower utility bills.
Is spray foam safe?
Yes, spray foam can be considered safe when installed and used properly. However, it is important to follow the manufacturer's instructions, wear protective gear during installation, ensure proper ventilation, and allow sufficient time for curing before occupying the space.