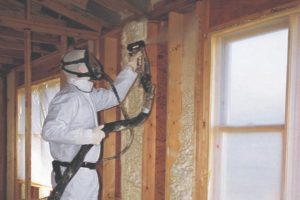 Ideally you should clean your attic at least once every two years. This cleaning schedule prevents any hazardous animals like rodents from forming large nests, which can spread diseases. Cleaning your attic can also help with energy costs as it allows a contractor to check for any holes that are letting in moisture and air or letting heat out during cold months. Replacing the old attic and other locations where you have insulation should be considered. New insulation can help with air quality and remove unseen issues.
Benefits of Replacing Old Fiberglass Insulation With Spray Foam
Removing attic insulation is usually done with a professional vacuum but some may require removal by hand for some types.
Spray Foam is Affordable – Spray foam insulation has become more affordable.
Spray Foam Creates a Healthy Living Space – Insulation removal is very often the key to attic decontamination. You will have no need to concern your with formaldehyde, CFC's (Chlorofluorocarbons, also known as CFCs, consist of chemical compounds made up of chlorine, fluorine and carbon.) or HCFC's (Hydrochlorofluorocarbons (HCFC).
Spray Foam is Better Insulation – The spray foam treatment provides better insulation than other methods because it prevents air leakage and air movement better than other insulations. It insulates and when applied correctly can reach upgrades of R-7 per inch. The fiberglass has a R value of R-3.
Spray Foam Prevents Mold – Spray foam insulation is waterproof and eliminates the worry of mold.
Why It Is Best To Hire a Professional to Remove The Old and Install the New Insulation
In an age of home renovation shows and do-it-yourself (DIY) home fixes on social media, attic insulation should not be one of them. Spray foam insulation professionals are highly trained and removing insulation without the right protective equipment can harm you. Spray foam insulation isn't a do-it-yourself renovation project because there are too many varying factors that influence what and how to insulate properly. Always hire an expert to do the heavy duty dirty work for you and make sure it's done right the first time.
Contact Us (513-771-3626) for More Information -or- Get a Quote!
—
About Cincinnati RetroFoam
Cincinnati RetroFoam is an experienced insulation contractor providing injection foam, spray foam, and blown-in insulation services to the Cincinnati, Dayton, Northern Kentucky & South-East Indiana Areas. Cold Annoying Drafts? Outrageous Energy Bills? Improve Your Home with Insulation.
> Learn More