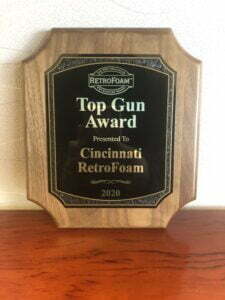 The Top Gun Award has been won by Cincinnati RetroFoam multiple times. This amazing achievement was made possible thanks to their commitment to professionalism, customer care, and being in the top 10% of RetroFoam dealer sales in the nation.
Problems We Solve…
Insufficient Insulation – Home inspections can often identify areas of a house that have little to no insulation.
High Energy Bills – The monthly energy bill is extremely high due to an air conditioner or furnace constantly running because various rooms in the home experience different temperatures.
Remodeling or New Construction – When building a new home or remodeling an existing one, insulation is needed to keep the house up to code.
Minor Issues – Condensation, freezing pipes, ice dams, etc.
We Are One of the Top RetroFoam Dealers 
The Top Gun Award of Excellence has been given to Cincinnati RetroFoam multiple times. It recognizes Cincinnati RetroFoam as one of the the top RetroFoam dealers each year. Cincinnati RetroFoam prides itself on being a company who provide customers with the best insulation possible. We have a team of experts who have been trained to work with customers to help them accomplish their insulation goals. Whether your project is an existing home, new construction or pole barn, we offer the best insulation options to meet your needs.
After successfully starting his own company, Integrity 1st Roofing, Dan Grimes decided it was time to take on a second business and launched Cincinnati RetroFoam in 2015. Since then, it has been the company's mission to provide a service no one else can, while also helping improve people's lives. Cincinnati RetroFoam gives the absolute best at every job so we can provide homeowners with the comfort and savings they are looking for.
Contact Us (513-771-3626) for More Information -or- Get a Quote!
—
About Cincinnati RetroFoam
Cincinnati RetroFoam is an experienced insulation contractor providing injection foam, spray foam, and blown-in insulation services to the Cincinnati, Dayton, Northern Kentucky & South-East Indiana Areas. Cold Annoying Drafts? Outrageous Energy Bills? Improve Your Home with Insulation.
> Learn More