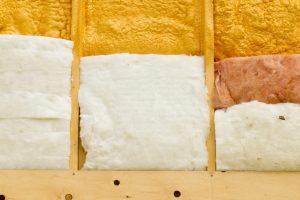 When building an office or home, you look at all the available insulation options. You have likely seen the option of spray foam and wondered if all insulation was the same. You may have wondered if spray foam is better than traditional fiberglass insulation. Spray foam insulation can offer great advantages over fiberglass insulation according to what you need. The following are some of the reasons people choose to use spray foam insulation…
Prevents Condensation
There are areas of the nation where there are high levels of moisture in the air. That moisture can become trapped in traditional fiberglass and cause mold and bacteria to grow. This creates air quality conditions that are not good. In addition, if the fiberglass insulation gets wet, you will need to replace it. On the other hand, open cell spray foam insulation does not retain water, so there is no buildup of moisture and no growth of mold.
Climate Control and Energy Efficiency
Traditional fiberglass insulation allows air to pass through. This causes it to be less energy-efficient to either heat or cool your home or business. Conversely, spray foam insulation doesn't allow air to pass through, so it is less expensive and more energy efficient.
Longevity
You will need to get new fiberglass insulation every 10 to 20 years, assuming it stays dry. It will need to be replaced immediately if it gets wet or walked on. However, spray foam insulation lasts a lifetime. It will not need to be replaced for at least 80 years!
Contact Us (513-771-3626) for More Information -or- Get a Quote!
Injection Foam Insulation  |  Spray Foam Insulation  |  Blown-In Insulation
—
About Cincinnati RetroFoam
Cincinnati RetroFoam is an experienced insulation contractor providing injection foam, spray foam, and blown-in insulation services to the Cincinnati, Dayton, Northern Kentucky & South-East Indiana Areas. Cold Annoying Drafts? Outrageous Energy Bills? Improve Your Home with Insulation.
> Learn More