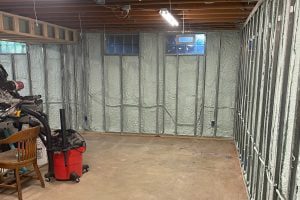 Insulating your home can bring invaluable benefits in the comfort it brings, better health, and the ability to enjoy living in your own home. A home insulation calculator can only show you the financial benefits, and there are some. For example, you might not be aware that a better-insulated house typically consumes less in heating and cooling costs in times of extreme temperatures. However, you should also take into account the forgotten benefits of home insulation that have little to do with money. With those in mind, insulating your home could be the best thing you've ever done for the year-round comfort of your family.
Why To Use Spray Foam over Fiberglass Insulation
Trying to choose an insulation method? After comparing the two, spray foam is clearly the better option. Here's why you should consider it.
Spray foam insulation gives a better return on your investment
Foam insulates from 30% to 50% better than fiberglass
Foam has an R-value of between 3.5 to 7 per inch while fiberglass has an R-value of 2.2 per inch
Foam has an estimated lifespan of 80 years compared to the 25 year lifespan of fiberglass
While fiberglass may be cheaper, spray foam tends to have an easier installation process
Spray foam can stop cold air from passing through your house, while fiberglass can have air leakage that will contribute to hotter or cooler temperatures in your home based on the weather. When it comes to water damage, some spray foams can even reject bulk water. Fiberglass, however, can retain water and potentially damage your home.
Open-Cell Spray Foam vs. Closed-Cell Spray Foam
When determining which type of polyurethane spray foam insulation to install, careful consideration should be placed on which type of cell is appropriate for the application, whether open-cell spray foam or closed-cell spray foam. There is no difference in quality between closed-cell spray foam insulation and open-cell spray foam insulation, as one is not "better" than the other; however, the varying physical properties between the two types of insulation mean that open cell may be the better of the two options depending on where the spray foam is being applied, or vice versa.
When the foam is applied, "cells" form as the foam expands and cures, and whether air remains trapped inside these cells determines if the foam is considered an open or closed cell. Open cell spray foam costs less than closed cell foam. Choose an open cell if it gives you the R-value you need and if you want a sound barrier. Choose a closed cell if your project requires higher insulation and resistance to water vapor.
Why Spray Foam Projects Should Be Left To Professionals
Professional spray foam installers have the equipment for projects of all sizes, whereas DIY kits can only be used for small spray foam jobs.
Most insulation contractors have years of experience, meaning they can do the job seamlessly and efficiently. You'll be able to enjoy your insulated space faster than if you do the job yourself.
Professional contractors offer insurance, so if a problem occurs during installation, you don't have to worry about the costs to repair it.
An experienced spray foam contractor has mastery over building codes, rebates, and energy-efficiency codes. Also, they can identify potential problems like structural issues and fungal growth that may cause issues with the installation.
Spray Foam Insulation Checklist
Get some estimates before hiring a Spray Foam Insulation contractor — estimates are typically free, unless it's a service call for a repair.
Expect the price to fluctuate between various companies – each and every company has different operating expenses and overhead.
Remember, there are multiple styled homes in the U.S – from: Contemporary, colonial, cape-cod style, ranch, bungalow, Victorian, etc. So keep that in mind and try to budget a little more, before starting your Spray Foam Insulation project.
Contact Us (513-771-3626) for More Information -or- Get a Quote!
—
About Cincinnati RetroFoam
Cincinnati RetroFoam is an experienced insulation contractor providing injection foam, spray foam, and blown-in insulation services to the Cincinnati, Dayton, Northern Kentucky & South-East Indiana Areas. Cold Annoying Drafts? Outrageous Energy Bills? Improve Your Home with Insulation.
> Learn More